Are your microgreen trays getting mixed up? Then you need to learn, how to label your microgreen seed trays. Gardening is a rewarding and fulfilling activity, but it can also be confusing and overwhelming. Keeping track of your plants can be especially challenging when you're dealing with tiny microgreens.
Labeling your seed trays is an important step in the gardening process that will help ensure healthy growth and successful harvests. In this article, we'll share with you different ways how to label your plants for maximum efficiency and accuracy.
How to Label Your Microgreen Seed Trays Quick Guide
With a little bit of planning and organization, and after you know how to label seedling trays, you can ensure your plants have healthy growth and successful harvests!
1. Use Colorful Stickers
2. Label with Popsicle Sticks
3. Use Tags or Cards
4. Reusable Labels
5. Digital Labeling
How to Label Your Microgreen Seed Trays Techniques
No matter which labeling technique you choose, the most important thing is that it's easy to use and helps you keep your microgreens organized. Here are five techniques how to label seed trays.
Use Colorful Stickers
Using stickers to label your seed trays can be a great way to keep track of your microgreen plants and make the process easier. Choose colorful stickers that will stand out among the foliage and clearly display the details you need.
Label with Popsicle Sticks
If you don't have access to colorful stickers, popsicle sticks are also an effective labeling solution. All you need is a permanent marker and some labels that you can affix to the popsicle sticks.
Using popsicle sticks is an affordable and effortless way to create microgreen labels. They are a great choice for seed trays and can be labeled with a permanent marker. Plus, since they're made of wood, they are not a significant loss if misplaced in the garden.
Use Tags or Cards
If you don't want to use any kind of adhesive label, tags, and cards can be a great way to identify your seed trays. You can purchase tags and cards from your local garden center or make them yourself using cardstock paper.
Reusable Labels
If you're looking for a more economical option, try reusable labels that you can use repeatedly. These are available in various shapes and sizes, and they're made with a waterproof material that won't fade even after multiple uses.
Using plastic markers for seed trays is a good idea. They can be sanitized and reused multiple times. Unlike wooden sticks, they do not develop mildew.
However, the only downside is that if they break and get lost in the soil, it's difficult to locate them, which can be problematic as nobody wants any plastic left in their garden.
Digital Labeling
If you want to take your labeling system to the next level, try using digital labels. You can use an app or software program to store all of your plant data and easily access it whenever you need it.
You can also improve the organization by creating a map of your seed trays and giving each cell a number. Then, record the information about the plant variety in each corresponding cell on a coordinating sheet of paper or spreadsheet.
Recommended Microgreen Labels That Get The Job Done
---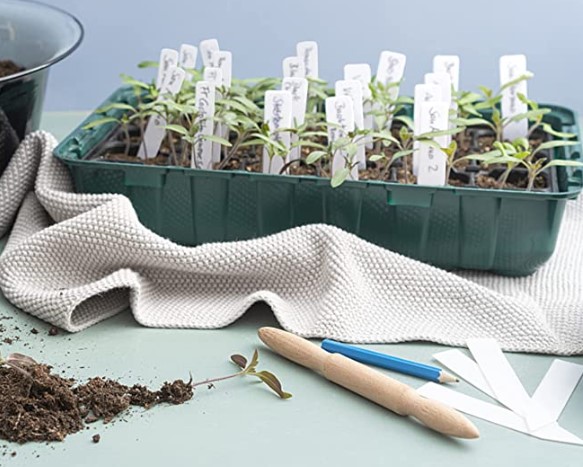 These Plant Labels are perfect for labeling your microgreen seed trays, plants, and other gardening projects. They are made of durable PVC plastic material that is waterproof and rust-resistant so they won't rot or break in extreme weather conditions.
The pointed end makes it easy to insert them into the soil while the matte surface on both sides allows you to easily write down what type of plant/flower is growing there with the bonus permanent marking pen included.
These labels are great for nurseries, greenhouses, homes, and more – allowing you to monitor which crop variety produced better results.
---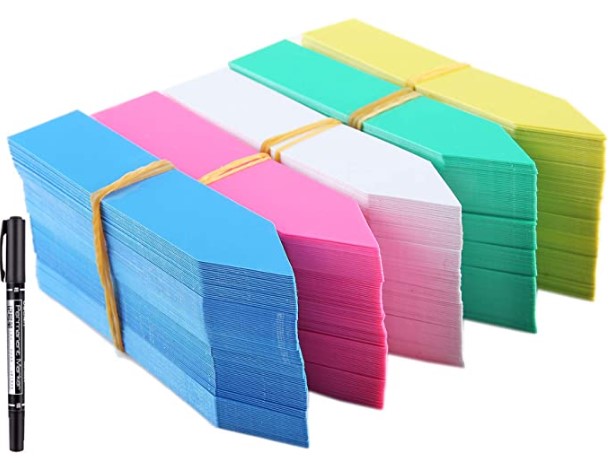 These 1000 Pcs 4 Inch Plastic Garden Plant Tags are perfect for labeling and organizing your plants. Made from durable PVC plastic, the tags are waterproof and UV resistant, making them ideal for use in any environment.
The labels come in five bright colors pink, blue, green, yellow, and white – each color has 200 pieces included – so you can easily differentiate between different types of plants or seed trays with ease.
As an added bonus, a permanent marker pen is included with the package to make identifying individual plants even easier. With these easy-to-stick into-soil plant tags, you'll have no problem labeling your microgreen seed trays or keeping track of how your plants are doing.
---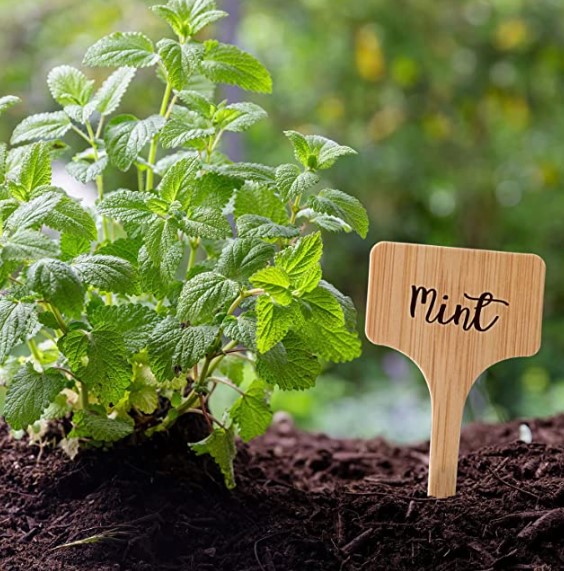 These 100pcs Plant Labels are perfect for labeling your microgreen seed trays or other plants. The labels have a natural-looking wood pattern that blends nicely with the environment and won't fade over time, making them ideal for long-term use.
They are made from high-quality PVC which is BPA-free and waterproof, so it won't get moldy or ruin your soil like regular plastic or wood would.
Plus, their smooth surface makes it easy to quickly write down the name of the plant, maturity date, and any notes you need to remember on them using the included pen – no worrying about washing them off in the rain or sun! Get organized today with our garden plant markers.
---
Common Questions about How to Label Your Microgreen Seed Trays
Why is it important to learn how to label your microgreen seed trays?
When you start growing a large number of seedlings and frequently move them from container to container, it can become difficult to keep track of them.
However, proper labeling can solve this problem. Additionally, keeping records can provide valuable information about the seeds you've grown and help you make decisions about what to grow in the future.
Why should you keep records of your plants?
Even though it may not be the most thrilling subject, keeping records is essential to the growth of your garden. Maintaining an effective and precise system to document information about your plants will minimize confusion and prevent waste.
Keeping records enables us to preserve important details about the process of germination and growth.
Keeping records can reduce confusion and alleviate stress.
Looking at records across different years can help us track our progress over time.
Are decorative plant markers good to keep track of your seeds?
There are many decorative plant markers available that can add visual interest to a garden. However, they have limited use because most of them are designed for traditional vegetable crops. Additionally, they can be quite expensive. While they are a fun addition to a garden, they are not ideal for keeping track of seeds or other important information.
How do you label vegetable seeds?
The labels should include the name of each type and variety of seeds, a unique identification number such as a lot number, and the distributor's name and address.
Video Trying out plant labels: What works best?
Are you looking for a simple and efficient way to label your microgreen seed trays? In this video, you'll learn how to easily label your plants so that it's easier for you to keep track of them. Learn the best techniques on how to label seed trays and make sure that your microgreens are well-taken care of!
Final Thoughts
Knowing how to label your microgreen seed trays is an important step in ensuring that you can easily identify and track the progress of each tray. With a few simple steps, such as choosing the right labels for your needs, writing legible information on them, and placing them correctly on the trays, you will have no trouble keeping track of all your plants.
Labeling also helps ensure that any pests or diseases are properly identified and prevented from spreading to other trays. By following these guidelines for labeling your microgreen seed trays, you'll be able to maximize their potential yields while minimizing loss due to misidentification or poor management.