Are you looking to create a lush and vibrant indoor oasis? A microgreen garden at home is the perfect solution! These tiny plants pack a big punch in terms of flavor and nutrition, plus they're incredibly easy to grow. All you need is some space, soil, water, light, and a bit of patience. With these nine inspiring ideas for a microgreen indoor garden, you can enjoy homegrown produce year-round.
From hanging baskets to vertical microgreen garden, and everything in between – there's something here for everyone! So get ready to transform your living space into an urban farm with these creative ways to cultivate your own microgreen garden at home.
Microgreen Garden at Home Quick Guide
Enjoy cultivating your very own microgreen indoor garden with these inspiring ideas for microgreen gardens at home! For more details continue reading below.
1. Windowsill Planters
2. Hanging Baskets
3. Self-Watering Planters
4. Wall Gardens
5. Mason Jar Gardens
6. Growing Mats
7. Microgreen Towers
8. Vertical Planters
9. Rooftop Gardens
Microgreen Garden at Home: 9 Inspiring Ideas
No matter which method you choose, growing your own microgreen garden at home can be incredibly rewarding! So don't hesitate to give it a go – you're sure to love the results.
Windowsill Planters
These small planters are perfect for growing microgreens, as they're easy to water and don't require a lot of light (just make sure that the window sill gets about six hours of direct sunlight per day). All you need is some soil, seeds, and a bit of creativity to create a beautiful display.
Hanging Baskets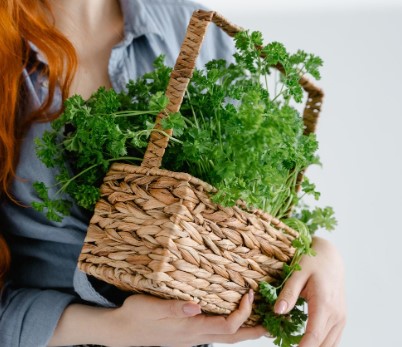 If you're short on space, hanging baskets are an excellent way to maximize vertical space for growing microgreens. These can be hung either indoors or outdoors, and they also come in decorative varieties so you can add some color to your home!
Self-Watering Planters
For those who are looking for an even easier way to grow their own microgreens, self-watering planters are a great option. These are designed specifically for growing plants indoors and can provide the perfect environment for your greens to thrive.
Wall Gardens
If you're looking to get a little creative, why not try out a walled garden? These can be made with anything from wood and moss to succulents, and they provide an interesting way to show off your microgreen plants.
Mason Jar Gardens
If you've got a few spare mason jars lying around,j you can easily turn them into a mini microgreen garden! Simply line the bottom of the jar with some soil and sprinkle in your chosen seeds. Then, add water and some light, and watch as your greens begin to grow.
Growing Mats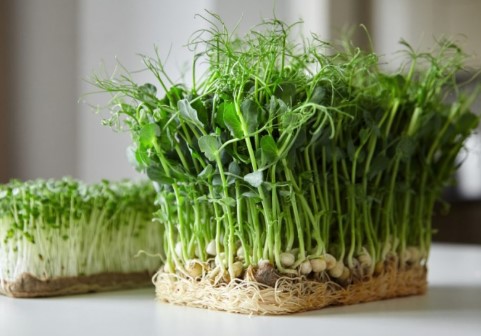 Grow mats are a great option for growing short-rotation crops like microgreens, sprouts, and wheatgrass. They are made from industrial hemp fibers that are separated, cleaned, and needle punched to create a soilless growing medium that is fully biodegradable.
Microgreen Towers
If you're looking for something a bit more elaborate, why not try out a microgreen tower? This is a great way to grow more greens in a smaller space, and it's also perfect for giving your home some added curb appeal.
Vertical Planters
These planters are easy to hang on walls or fences, and they provide an excellent way to make the most out of your vertical space. Simply fill the planter with soil, choose your seeds, and enjoy watching your microgreens grow!
Rooftop Gardens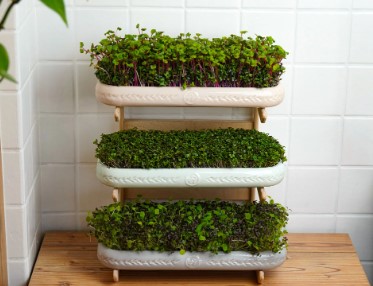 If you're lucky enough to have access to a rooftop or balcony space, why not take advantage of it? With some basic supplies and lots of sunlight, you can easily create a beautiful rooftop microgreen garden.
Recommended Tools That Get The Job Done
---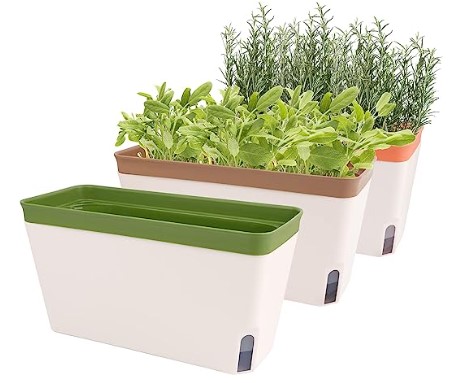 The OurWarm Windowsill Herb Planter Box Indoor Set of 3 is the perfect solution for creating a microgreen garden at home.
Featuring self-watering principles thanks to absorbent cotton ropes, you don't need to worry about water shortages and can leave home for a few days without worrying about your plants dying.
Moreover, there's a visible water level window on the bottom of the planters so that you can monitor it easily and make sure that your plants get enough moisture. It's an ideal setting for creating an indoor microgreen garden and will be a great way to get started with microgreen gardening!
---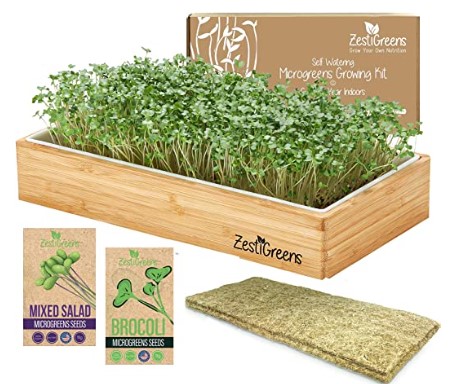 The Microgreens Growing Kit Self-Watering contains everything you need to grow a flourishing microgreen garden at home. In less than one week your gorgeous indoor garden will start sprouting – giving you lots of compliments from friends and family alike!
This complete kit includes a quality 12×6″ microgreens tray with natural wood surround for an elegant look, as well as a unique hydroponic insert and two hemp mats. Also included in the kit are a black-out felt lid and organic broccoli seeds (the best-selling variety), plus mixed packages of broccoli, kale, kohlrabi, arugula, and cabbage seeds for maximum variety.
You can choose between growing hydroponically or traditionally with soil so that you can successfully grow all kinds of popular sunflowers, chard, peas, and other plants needed to create a beautiful mini garden at home!
---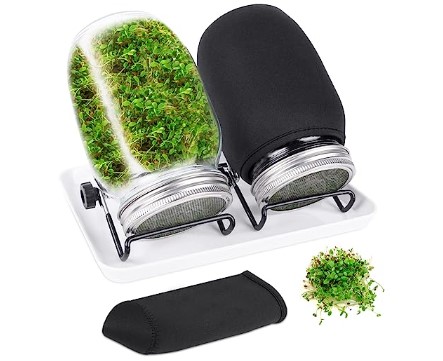 The Complete Sprouter Set from Microgreens Growing Jar is the perfect solution for creating a microgreen garden right at home. This kit includes two glass jars, two stainless steel mesh sprouting lids, two stands with easy-draining legs, blackout sleeves, and a drip tray.
The blackout sleeves are especially beneficial for growing beans, grains, and nuts which prefer darkness in order to grow longer and straighter. Enjoy organic healthy food by simply adding seeds and water to the jar – no need to go out of your way!
Plus this set is made with stainless steel and glass materials that are easy to clean and dishwasher safe so you can keep sprouting season after season. Bring your own microgreen indoor garden to life today!
---
Common Questions About Microgreen Garden at Home
Is it safe to grow microgreens at home?
To grow healthy microgreens, focus on using clean and sanitized trays or containers. Growing microgreens at home is a safe practice, and it allows easy access to fresh microgreens that you can consume at any time.
How do you grow microgreens at home for beginners?
To start growing microgreens, the initial step is to locate appropriate containers. Garden trays that are wide and shallow work well. You can also repurpose takeaway containers, foil pie dishes, and gutters as grow trays. Remember to create drainage holes at the bottom of each container.
How to care for microgreens in an indoor garden?
To help the seeds grow, use weights to press them down and water them regularly to keep them moist. Soon, you'll notice they'll begin to sprout and develop small roots.
Seedlings grow quickly in warm weather, such as in the summer. After three days, they may be ready to be moved to a windowsill. Remember to lift them and spray them with water.
Plants placed on a windowsill will grow rapidly. Make sure to water them frequently. As the plants grow bigger and need more water, it's more convenient to use a small jug or a child's watering can instead of a sprayer.
What are the pros and cons of microgreen gardening at home?
Pros:
Growing microgreens is incredibly fast
Microgreens don't require a lot of space
Microgreens are super nutritious
Microgreens are ridiculously expensive at the store
Microgreens can be grown year round
Cons:
Microgreens setup takes some work
Microgreens need your daily attention
Microgreens can only be harvested once
Video How to grow microgreens at home – From start to finish
Are you interested in growing a microgreen garden at home? Microgreens are a type of edible plant that can be grown indoors and provide a great source of nutrition. In this video, I'll share my tips for how to start a microgreen garden and how to care for your plants so they thrive!
Final Thoughts
Growing a microgreen garden at home is an easy and rewarding way to bring life into your living space. Whether you're looking for something small that can fit on your windowsill or are ready to transform an entire room of your house into a lush indoor oasis, there are plenty of inspiring ideas out there waiting for you to create the perfect microgreen indoor garden.
With just a bit of effort and creativity, you could soon have the most beautiful microgreens in town! So what are you waiting for? Start planning and get growing today!