Growing your own microgreens is a great way to get the freshest, healthiest greens in your diet. Microgreens are packed with nutrients and can be used as flavorings or garnishes on almost any dish. But before you start growing your own microgreens at home, you'll need the right equipment – namely, a microgreen tray.
With so many different options available, it can be hard to know which one is best for you. That's why we've done the research and compiled a list of our five favorite picks for healthy, flourishing greens! We'll explain how many ounces of microgreens per tray each option holds and even provide instructions on how to make your own DIY microgreen tray if desired!
Features To Look For In A Microgreen Tray
A microgreen tray is a container designed to hold small, young plants, typically harvested for culinary purposes.
Size & Depth
The trays are often made from plastic, and they come in a variety of sizes and depths. Depending on the size and depth of your microgreen tray, you may need to adjust the amount of water you add when watering.
Design
Many designs have built-in drainage holes that allow excess water to flow out and keep the microgreens from becoming overwatered. Some designs also have ridges or indentations to help keep soil and microgreens in place.
Growing media
You can grow microgreens using materials such as coco coir, paper towel, or jute fibers in trays suitable for hydroponic cultivation. This is an excellent option for individuals who want to grow microgreens in limited spaces within their indoor gardens.
Seeding density
Actually, 1010 or 1020 are the names of standard trays. To determine the planting surface area accurately, let's measure the length and width of the growing media. There can be a significant difference in the area, particularly for cilantro or basil microgreens that grow larger leaves.
If seeded too densely, they can become overgrown. Ideally, we want to plant around 20 seeds per square inch. For broccoli microgreens, this is not as crucial.
Durability
The trays must be durable enough to withstand daily use for many years, meaning they should not break or crack in case of accidental dropping or hitting a hard surface.
Strength
You need to have enough strength to lift a tray filled with moist soil from one end, no matter how small or large it is. It is possible that you may have to take one hand off the tray in case you stumble, hurt your toe, or need to catch something else that is falling. Therefore, the tray should be sturdy enough to bear its weight without bending or breaking.
Low Height to Soil Volume Ratio
Using shallow trays is better than using deep trays because deep trays require more soil to fill and can cause issues during blackouts, reduce light to young microgreens, and make harvesting difficult. Microgreens can grow in very little soil, so deep trays are unnecessary. To avoid these problems, it is recommended to fill trays with soil levels near the top.
Evenly Spaced & Reasonably Sized Holes
Planting trays should have multiple evenly spaced holes that are big enough to allow water to pass through but not too big that soil falls through when bottom watering. The holes should be present around the tray perimeter and throughout the bottom surface.
Bottom Ridges or Tight Fit
To prevent overwatering, watering trays should have either ridge on the bottom or a tight fit. Ridges elevate the planting tray, allowing for the drainage of excess water. A tight fit forces water higher into the soil and prevent one-time overwatering.
Health & Safety
For safety reasons, it's important that microgreen growing trays don't have any sharp edges that could cause cuts to the fingers and hands. Additionally, the trays should be made of food-safe materials in line with health and safety regulations.
To grow food in plastic, it is necessary to use food-grade plastic, preferably ones that are free from BPA. Research indicates that BPA can leach into food from containers made of it, causing issues like diabetes, high blood pressure, and cardiovascular disease.
Needs to Fit the Space You Have Available
The microgreen growing tray you choose should fit the space you have available. It's not useful to consider recommendations for trays that are too big or take up too much space.
Best Microgreen Tray Picks
---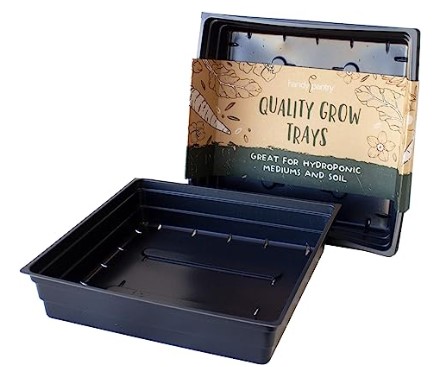 The 10″ x 10″ Garden Growing Trays with Drain Holes from Handy Pantry are a perfect choice for indoor gardening. These recyclable plastic seed sprouting trays make it easy to grow countertop sprouts, wheatgrass, herbs, and microgreens.
It's also ideal in the garden for propagating seeds, cuttings, or hydroponics. They nestle perfectly into their larger drip trays making them an essential part of any greenhouses or fodder systems.
Made out of durable black plastic and featuring drainage holes each tray is sure to stand up to repeated use whether you're making microgreen trays to plant your own DIY harvest or looking for an efficient way to store multiple ounces per tray!
---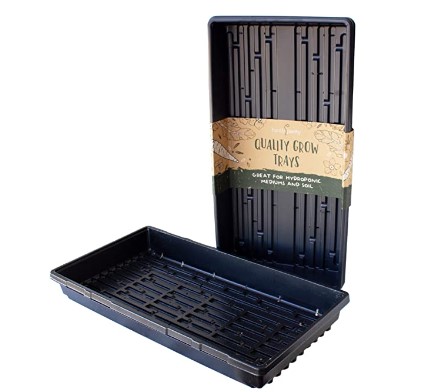 This 5-pack of 10″ x 20″ Handy Pantry plastic seed sprouting trays are perfect for indoor gardening, and a great way to expand your hydroponic growing.
The post-consumer plastic trays have drain holes that make them ideal for propagating seeds, cuttings, microgreens, wheatgrass, and other plants in the greenhouse or kitchen.
They conveniently nestle into 10″ x 20″ drip trays so you can get started quickly with DIY microgreen tray projects such as growing delicious microgreens – up to four ounces per tray! This multi-purpose reusable material is also great for greenhouses, fodder systems, and more.
---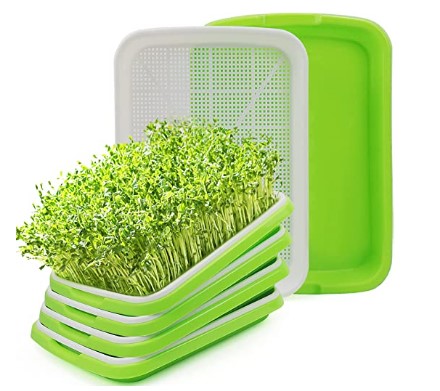 The SDLDEER Microgreens Growing Trays are large capacity trays with lids, available in 5 and 10-packs of various sizes. Made from food-grade material plastic, these trays feature a double-layer design with germinating layer and aquifer for easy removal.
Beginners can easily germinate a variety of small seeds without the need for soil or chemical additives, such as beans, peas, mung beans, wheat grass seeds, radishes, and more!
These diy microgreen tray kits are great for gardening enthusiasts who want to start growing their own microgreens at home using the best materials available. Each tray holds up to 7 ounces of microgreens per tray – perfect for sprouting your favorite greens!
---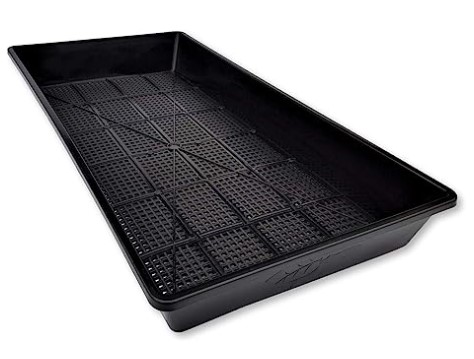 The Mesh Bottom 1020 Trays are the perfect solution for propagating microgreens, soil blocks, and rock wool cubes. These heavy-duty plastic trays are made from BPA-free Polypropylene PP #5 plastic and have no harmful additives.
Measuring 21.25″ x 11″ x 2.25″, these seedling starter trays are ideal to get your planting seed starter kit started. The mesh bottom provides an optimal hydroponic solution for germination, making it easy to find the right amount of moisture for growing wheatgrass and fodder as well as microgreens – with around 26 ounces per tray!
This set of ten extra-strength trays is a durable option that will last you many years and provide outstanding value year after year.
---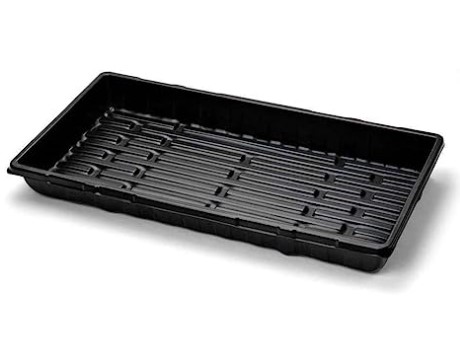 This 1020 Plant Tray is reliable, sturdy, and traditional-sized thermoformed tray that has no center bar or side ribs. It is 11″ wide, 21.37″ long, and 2.44″ deep, making it perfect for an array of uses such as seed starting, microgreens growing, or hydroponic growing.
This heavy-duty 0.66 gauge plastic tray can also be reused multiple times when properly cared for! It allows for community watering with its consistent bottom & side-positioned drainage holes (or no holes).
You can easily densest the trays using two fingers and even use it as a drip tray! Maximize your growth today with this high-quality 1020 Plant Tray!
---
Types Of Microgreen Trays
Planting Tray
The planting tray is the container where you will put the potting mix with coco coir and seeds to grow microgreens. It usually has drainage holes to enable bottom watering and wicking of water into the soil.
If you want to water your microgreens from the bottom, make sure to place them in a container that has holes at the bottom.
Watering Tray
The watering tray's main purpose is to contain water. The planting tray sits inside it so that the microgreens can be watered from beneath. Watering from below helps prevent mold growth.
Since it is meant for storing water, it will be completely solid and will not have any holes.
Common Questions About Microgreen Trays
What is the best microgreen tray?
A good quality microgreen tray will provide just enough space for each seedling to grow without crowding out its neighbors, ensuring that every plant has an equal opportunity to thrive. The best trays also have drainage holes that allow excess water to escape so roots don't become waterlogged and rot.
Is your watering tray also called the bottom tray?
We refer to the bottom tray as the watering tray as it helps in watering the microgreens from the bottom. This technique prevents overwatering of the microgreens and conserves water as it goes straight to the growing medium, unlike top spraying.
Is a DIY microgreen tray any good?
You can easily find instructions for making a simple tray out of cardboard or plastic containers. Just be sure to make the tray deep enough and provide adequate drainage so that your microgreens don't become waterlogged. With a little bit of effort, you can have a viable DIY microgreen tray in no time!
Video DIY Hydroponic MicroGreens Planter
Are you looking to start growing microgreens but don't know where to begin? This video will show you the basics of creating your own DIY microgreen tray. Learn all about growing your own nutrient-packed greens with this easy tutorial!
Final Thoughts
Growing your own microgreens at home is a great way to get fresh, nutritious greens without having to leave the house. With the right tray and soil mix, you can easily grow enough microgreens for one or two people in just 10 days. We've highlighted some of our top picks for the best microgreen tray that provides ample space and drainage holes so you can start harvesting delicious greens quickly with minimal effort.
Whether you're an experienced gardener or new to growing your own food, try out one of these amazing trays today and enjoy all the health benefits that come along with it!